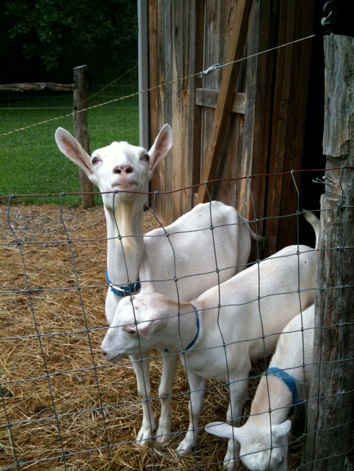 Ok, so, it turns out if you're not willing to book shows way in advance cause you're retired and want to have a little freedom on your first music tour ever, then you may, occasionally, have very small, "unique" audiences.
If you let that get you down, you could be in trouble.
BUT…if a show for one fabulous human being, three goats, three dogs, and two cats set at the pristine venue of the Barefoot Farm (Organic & Completely-Off-The-Grid) in Asheville, NC sounds like a dream come true, you just may be
in luck.
We were.
This was one of our best shows yet. Could've been the farm, could've been the animals, could've been this particular human (Mr. Will Harlan…look him up…phenomenal human being), or, most likely, could've been all of the above, but Greg and I closed our eyes and astounded even ourselves with the music that came through.
Maybe it's just that after you travel in a teeny motor home for so long and play show after show (aka: practice a lot), magical things start to happen?
(I think it may have something to do with the hundreds of mating butterflies that seemed to be all around (Greg had to slam on the brakes for the ones in the photo above) or the fact that I milked my first goat this morning before the show…ewww…i mean…wow!)